Teeth Whitening at Praxis Dental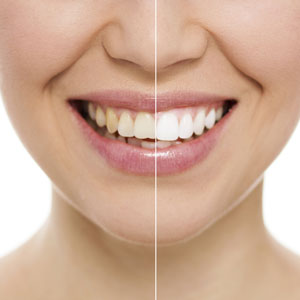 If you've been seeking a way to refresh your look, teeth whitening is a simple way to appear more youthful and attractive. At Praxis Dental, our dental team offers professionally supervised in-chair whitening or convenient take-home kits to suit your busy schedule.
The first step is to schedule a consultation with Dentist Dr Ishita Puri. Once we've determined that you are a suitable candidate for teeth whitening, we'll discuss which option is best for your situation-an hour-long in-chair session with results up to eight shades whiter, or our take-home kit with customised trays.
Whiter Teeth in a Single Visit
For superior results, in-chair whitening gets you the brightest smile possible. The gel strength can be greater when supervised by a professional, giving more whitening power to this option. A specialised light is used to increase the intensity. Meanwhile, you can relax in our comfortable dental chair and watch a programme or movie on the ceiling-mounted television.
We'll provide you with a touch-up kit to take home. You can choose between bleaching trays and a gel or a whitening pen that can be reapplied to your teeth after a month or two.
In-chair whitening can be repeated every 4-6 months. It lasts longer if you refrain from smoking or heavy wine or coffee drinking.
Take-Home Whitening for Your Busy Schedule
After we've determined the take-home whitening kit is best for you, we'll take impressions of your teeth and use them to create customised whitening trays. You'll receive a whitening gel and instructions on exactly how to proceed. You'll see the results within a couple of weeks.
Are You a Candidate for Teeth Whitening?
We recommend teeth whitening for any adults who want to gain a brighter smile. People who have gum disease or open cavities will need to have their issues addressed before proceeding with teeth whitening. If you are pregnant or breastfeeding, teeth whitening is not recommended. Contact us today to book your time! We offer flexible payment plans.

Teeth Whitening Pacific Pines, Gold Coast, Maudsland, Oxenford QLD | 07 5500 0811