Sleep Apnoea Treatment at Praxis Dental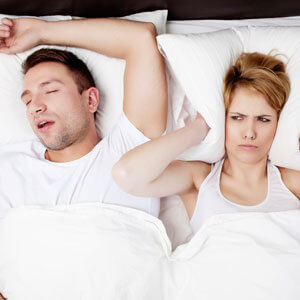 Do you or your sleep partner suffer from problems like:
Chronic snoring
Fatigue
Teeth grinding
Headaches or migraines
Weight gain
High blood pressure
You could have a sleeping disorder, such as obstructive sleep apnoea (OSA). Without even realising it, you could be waking up at night, gasping for air because your brain is deprived of oxygen.
Fortunately, a custom made oral sleep appliance can help. Some of our CPAP intolerant patients are even able to give up their bulky equipment. With a mouthpiece designed by our dentist, we can position your lower jaw in a way that naturally opens the airway at the back of your throat.
Untreated sleeping disorders can be deadly, putting you at risk of accidents during the day and an increased risk of major health problems such as cardiovascular disease.
Diagnosis and Screening
At Praxis Dental, we can screen for sleep apnoea risk factors during your checkup. If a sleeping disorder is suspected, we will make appropriate referrals for you to have a sleep study in your home or at a specialist's practice. After the findings have been reviewed by a pulmonologist or other physician, it will be determined if an oral appliance is your best option.
Advantages of Using a Dental Sleep Appliance
Compared to a CPAP machine, oral sleep appliances are more discreet and easier to use. Their small size makes them convenient to store and travel with. Plus, you can sleep on your side, your stomach or other positions that may be impossible with a bulky CPAP.
Better Sleep Could be a Dental Visit Away
Having an oral sleep appliance made is relatively straightforward. All we need is an impression of your teeth! Many of our patients see improved sleep quality within the first few nights. You may even be able to quit using your CPAP entirely.
Book your consultation today! We're open Saturdays. Your family and your health will thank you!
Sleep Apnoea Treatment Pacific Pines, Gold Coast, Maudsland, Oxenford QLD | 07 5500 0811