Dental Crowns at Praxis Dental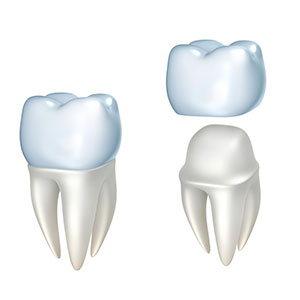 Life happens, and sometimes you can't stop damage from impacting your teeth. Whether your tooth has experienced trauma, root canal therapy, the ageing process or decay, a dental crown may be the ideal solution to restoring your smile. Often, we may recommend crowns in conjunction with other services such as veneers or whitening to enhance your look.
A crown is a completely natural-looking cap that covers the tooth. It's appropriate in cases where a filling isn't large enough to take care of the damage, and you want an aesthetically pleasing solution. We utilise strong porcelain to create the crown so that it's durable and long-lasting.
What to Expect
Once you've had a consultation with Dentist Dr Ishita Puri and determined that you require a crown, we'll do an extensive examination to understand the damage that is present. We'll take impressions and then send them to our laboratory where the crown is created, polished and glazed for a luminous look. Your crown is fabricated layer by layer for an extreme degree of accuracy and to match seamlessly with your smile.
Once it's ready, your crown will be sent back to our practice, and you'll return to have it cemented on.
Want to Learn More?
Did you know that dental crowns are often covered by your health fund? We're preferred providers for NIB and HCF. Contact us today to book your time!
CONTACT US

Dental Crowns Pacific Pines, Gold Coast, Maudsland, Oxenford QLD | 07 5500 0811