Dental Bridges at Praxis Dental
Restorative Treatments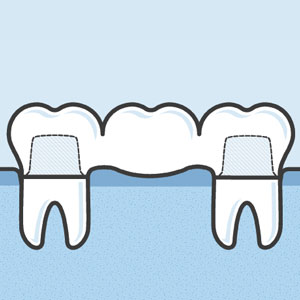 Severely broken, decayed or missing teeth call for a restoration that's a step beyond a typical dental filling. Electing to get a crown or bridge will protect and repair your smile for several more years.
Each of our custom bridges are made of durable materials such as porcelain or metal to maximize strength and aesthetics (depending on which tooth is being treated).
Bridging the Gap
Bridges are multi-tooth restorations that span from one healthy tooth to the next, while suspending a pontic (fake) crown between them. A bridge is ideal when you have 1-2 missing teeth. They can also be used to replace several teeth at a time if anchored on top of dental implants.
Long Term Care and Maintenance
Getting a bridge improves your oral health but it does not make the area immune to new infections. It's important to carefully brush and floss along your new restoration as you would any of your other teeth. When flossing a bridge, you may need a small threader or a water flosser to clean underneath.
What to Expect
Most lab made restorations require two appointments to complete. At your initial appointment we will shape the supporting teeth so that a crown or bridge fits over them, then take an impression for our lab to use during the design process. Your final restoration will be ready about two weeks later.
Contact us today to book your exam!
CONTACT US

Crowns and Bridges Pacific Pines, Gold Coast, Maudsland, Oxenford QLD | 07 5500 0811